Let me start off by saying Congratulations to Jess and Joe on getting married!! It was an amazing wedding and an unforgettable weekend. I am so sad it is all over. I am definitely going through withdrawals. I miss my bestie, I miss all the fabulous girls I spent the entire weekend with, and dang it I miss the party! But, life must go on.....so I will just have to re-live it in this wedding re-cap.
The festivities began on Friday. All of us girls got our nails done, had a yummy lunch, and then changed and headed over to the hotel for the rehearsal.
Jess practicing the walk down the aisle.
It was brief and productive and super hot. After figuring out where to stand and how to walk we headed to the reception room to help set up a bit. 200 chair covers and bows later....
Still missing the centerpieces, but on its way to being fabulous!
The rehearsal dinner was hosted by Joe's parents and took place right across the street from the venue. The food was yummy and the drinks were flowing. There were no Matt Clute incidents....but I got pretty intoxicated. However, not as bad as the best man who decided that he would try to egg the place after being cut off from the bar. Good job Sam. Luckily, nobody got arrested and nobody had a hangover (me included, altho it was close).
After we reached our 10pm curfew (thanks Jenni!) all the girls headed back to the Absher house for a little bridal slumber party. It was a great idea. I love girl time. We all woke up, had breakfast together and then started to get dressed. The house is very roomy so everyone had space to get ready or hang out. It was a relaxing and enjoyable morning. By 2pm we were finally ready and we took off for the venue! We checked into our rooms, put our dresses on, and were off to take pictures. It was a gorgeous day out....sunny and 80. We actually ended up walking around town and taking some pictures by a cool brick wall and one covered in Ivy. Jessica sole the show and got lots of 'congrats' along the way. A few little kids even called her a Princess. So precious. I can't wait to see the photos, they are going to be awesome!
At 6pm the wedding finally started and everything went perfectly. Jessica looked so beautiful, she was glowing. Joe was handsome as ever and teared up when he saw her. They wrote their own vows which I'm pretty sure made every single person cry. It was a wonderful ceremony, sealed with a long juicy kiss! :) Many more pictures later we made it in to the reception and started the party. From that point on I have no idea where the time went. There was food and drinks and dancing. They also had a really cool photo booth which everyone loved! We partied until midnight and then finally had to go back to our rooms. Here are a few pictures from the evening:
the bride and her maids being silly
The groom's mom: she rocks!! <3 you Jan!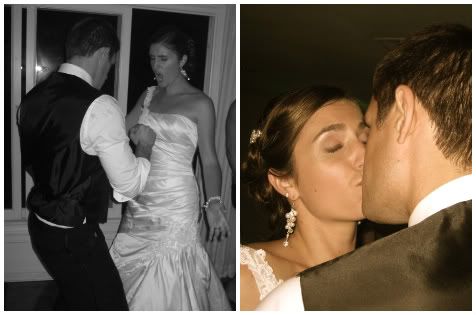 the happy couple! So cute!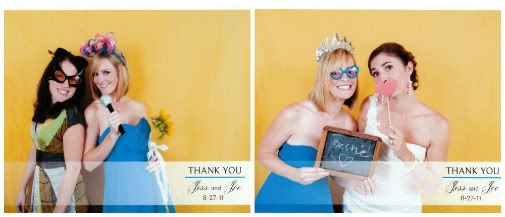 Can't go wrong with a photo booth! So much fun :)
What a weekend. I had such a great time and I feel so blessed to have been a part of it all. Thanks bestie for having me as your bridesmaid. I love you lots and I am so happy you and Joe found each other and finally got married! And Joe, my bestie-in-law....treat her right (and I know you will). You guys are so perfect for each other!
So, can we please meet up and do this again every year? Same place, same time? :)