I love weddings. Celebrating love, meeting new people, enjoying fabulous food and lots of drinks. And Brent and Kassidy's was a hit! It took place at a gorgeous park right next to a vineyard. After a cloudy morning the sun came out, making it the perfect day. The wedding was very laid back with picnic benches used during the cocktail hour, and white umbrellas for shade. There were yellow accents everywhere, giving it a warm, friendly feeling. After the beautiful ceremony, sealed with a kiss....
we were off to the bar. Priorities. We had some yummy wine and tried oysters for the first time!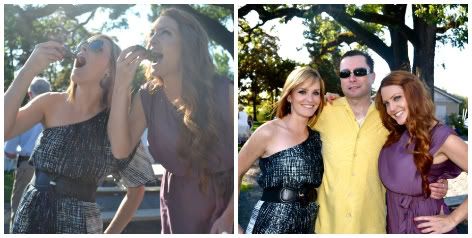 They were slimy, but covered in pesto. We decided the best plan was to just swallow them. They were ok. Nothing exciting. Would I eat them again? Maybe, but only if I didn't have to chew them. Chewing something slimy = yuck. But I am glad to cross this off my bucket list. LOL.
After a yummy dinner and some fabulous speeches from the wedding party and the parents, we were off to the dance floor and the photo booth.
dancing with G-ma on her bday!
the photobooth was wayyyyyy too much fun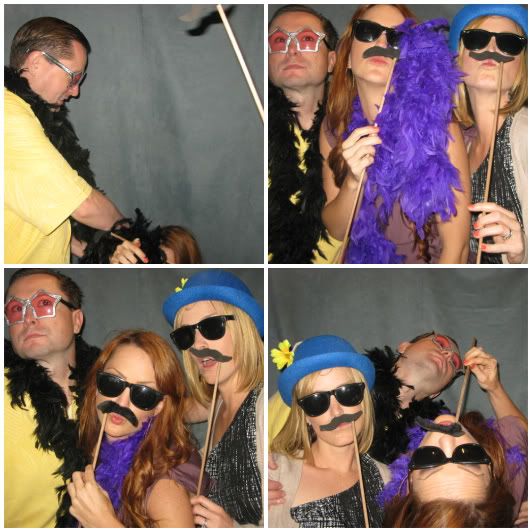 It was a fabulous night. We made new friends and drank lots and lots of wine. And yes, there was a small hangover the next day. Well worth it though. We closed the place down and re-lived all the crazy memories the next day. Good times.
Thanks Brent and Kassidy for having such an awesome wedding! You make an amazing couple and your love is an inspiration to all of us. Have a great honeymoon and I can't wait to see you again soon!!