Three years ago I married my best friend. And two years ago was one of the best days of my life: I said my vows in front of our friends and family and had the most amazing wedding ever. Despite some rain and some cool weather, the day went perfectly. We had our ceremony outside and we danced the night away with all of the people we love most in this world. One of my favorite pictures that sums up the night:

I feel truly blessed to be able to spend the rest of my life with such an amazing man. We share the same goals and dreams. We also love to do a lot of the same activities (which is so cool) and we make an awesome team! He takes care of me and loves me more than I can imagine. I know this because I love him the same. As time has passed and life has changed, our love has only grown, making our relationship even stronger. I am so excited about our future and all life has to offer. I know, no matter what, it will be great because I have Matt by my side.
My anniversary gift from Matt:
It's a vintage Tiffany's stained glass lamp. I love the one my Grandma has at her house, and Matt knew how much I hated our current desk lamp, so he got me this beauty. He even managed to match it to the decor already in the room. We named her Violet. The best thing about this gift: it has a story behind it. It isn't just a lamp I picked out from Target. It's an anniversary gift. It reminds me of my Grandma. It reminds me of Matt. I love it!
In honor of our anniversary (and since Matt was actually home this year to celebrate) w
e decided to spend the entire day together and then go out to dinner at one of our favorite restaurants. We started the day by jumping out of bed bright and early to go grocery shopping! I know, very lame, but it had to be done. It was actually a pretty nice trip to the commissary. If you go early enough (we were there around 830am) all the vegetables are fully stocked (with good looking produce!) and there aren't many people in the store. I guess a lot of people come after church to shop, so we missed the crowds (yay). After getting all the necessary items for the week we dropped it off at home and headed off to Yoga. There is a great yoga studio near our house that offered us a free one week pass, so we figured we would give it a shot. I had done yoga a few times before (mostly P90x...ugh) but Matt was a newbie. It was 80 degrees in the room, so we started sweating pretty quickly. It turned out to be a lot of fun (normally I dislike yoga), and considering neither one of us ever go (and we aren't flexible) we did an awesome job. I was surprised we were able to hold certain poses without falling on our butt and embarrassing ourselves. And it was actually really relaxing. We got a good workout in (my abs are still sore) and we de-stressed. Good deal all around. I think we will definitely be going back a couple more times this week. Matt already wants to go often so he can become a yoga master. :)
After showering I decided to make a special anniversary breakfast: grain free pancakes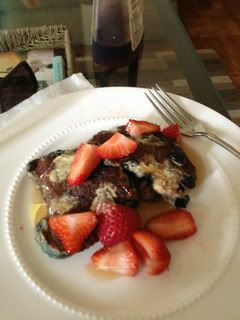 I got the awesome recipe from my friend Samyjo over at Hooked on Healthy. I added blueberries to the mix and topped it off with fresh strawberries. YUM! Healthy and delicious.
Then it was time to watch the Charger game! We all put our jerseys on and lounged around and watched a ton of football. Even Harley decided he needed a jersey to root on his favorite team!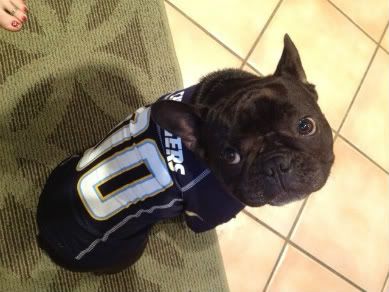 Unfortunately the Chargers lost, choking horribly in the second half. Not cool.
Then it was off to dinner at one of our favorite restaurants: Prado. Here we are, all ready to go:
It is located in Balboa park and has the most amazing filet mignon. Mmmmm. We also decided to splurge and get dessert.

It was heavenly. And it was great to spend the evening out with my hubby, recapping our wedding day and talking about our future and all the wonderful thing we have to look forward to. To top it off: there was a lovely wedding going on right next door to the restaurant in a fabulous ballroom. After dinner, as we were heading out, you could hear the music and see the people dancing. It looked like a lot of fun. So we decided to get in on the action. Yes, we invited ourselves to a random wedding. All we wanted to do was dance and have a good time, we didn't plan on drinking their alcohol or anything like that. As we stroll into the ballroom quite a few heads turn and look. We quickly realized we stood out like a sore thumb (I was also wearing a white coat which happened to glow). LOL. And the dance floor was not as packed as we hoped. We evaluated the situation, and stood awkwardly near the door before finally heading out. We were too chicken and didn't want to get in trouble. haha. We gave it a good shot though. If the dance floor had been packed we definitely would have stayed. Maybe next time.
We ended our evening with a little tv time and cuddles on the couch. It was a pretty great day. Spending time together, doing ordinary stuff is one of my favorite things. And after that 7 month deployment, Matt agrees 100%. He even volunteers to go grocery shopping with me and push the cart. I married a great guy! I love you baby! Happy Anniversary!