Friday morning we pulled into Dunedin, New Zealand bright and early. Since it is summer in this area the sun rises around 6am, and sets around 8pm or later. We didn't even set an alarm, just left the curtains open and woke up with the sun. It was fabulous. After getting ready and enjoying some breakfast we headed out to the city!
Lumber yard right near the port.
The ship actually docked in Port Chalmers, so we took a 15 minute bus ride that dropped us off in the center of the city. Matt had read the entire New Zealand travel book and knew exactly what he wanted to do in Dunedin: ride bikes. Apparently the Otago Peninsula is the top cycling destination in the world! I quickly agreed that it would be a great way to see the city and the landscape of New Zealand, so we hit up the local bike shop and were on our way. The guy at the shop told us there would be a bike path/lane for most of the way, but their definition of a bike lane is very different from mine. We made it out of the city just fine, but as we hit the two lane highway heading towards the end of the peninsula it was a white line and a teeny bit of asphalt that apparently was the "bike lane". I seriously thought we were going to get hit by a car. And they do not yield to pedestrians or bicycles in NZ. It was a scary ride.
By the time we made it to Macandrew Bay (about 7 miles) I was ready for a snack and a rest. My hands were hurting from gripping the handle bars so hard. I needed to get off that road and relax with an ice cold beer. We found a cute little restaurant where we shared a delicious cheeseburger and a much needed drink.
After talking to some locals in the restaurant (and refusing to ride back on the road of death), we learned the Larnach Castle was just 3.7km up the road. That seemed like a pretty short distance even though we were told it was a winding, steep road. We headed out and found out pretty quickly just how steep it really was. We ended up walking our bikes up the hill. Yes, it was that steep. Needless to say it took us a long time to get to the top, but we got some great pictures along the way.
I want to put this one up in the bathroom :)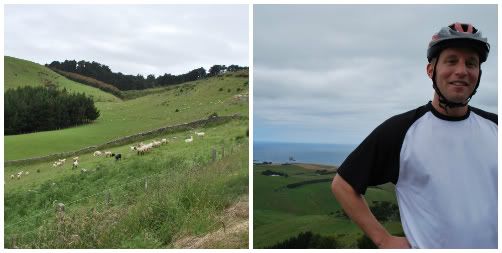 there were sheep all over!
An hour later we finally made it to the castle, and by that time I was thirsty and had to pee. Because they were charging so much for people to get in, I ended up just going to the castle by myself while Matt waited outside. I didn't get any pictures of it while I was using the bathroom, but it was basically a really big older house. Definitely not like a European castle, but still very pretty. After hydrating we were on our way back to town. This time we took Highcliff road which ran on the top of all the gorgeous hills, and was mostly downhill (finally!). It was a leisurely ride back and we enjoyed it a lot. At one point on our ride, a local joined in and was chatting with us about the area and the town. Very friendly people in NZ.
I stopped and petted a local horse. Even the horses are friendly in NZ!
Once we got to town we dropped off our bikes and headed for the bar! We sat outside, enjoyed the lovely weather, and had a few local beers. It was a great way to end the day.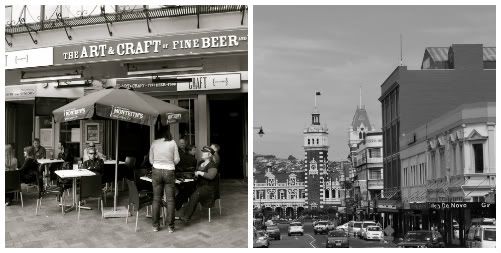 This was one of my favorite days of the whole trip. I loved going out and exploring the town and the landscape and getting away from all the tourist stuff. It was peaceful and very beautiful.
Saturday morning we pulled in to Akaroa, New Zealand. Originally we were supposed to go to Christchurch, but because of all the damage from the earthquake, that port was no longer open. Akaroa is about 90 minutes from Christchurch, and a lot of the people on the cruise took the bus over to see the city. We decided not to, which is my only regret of the trip. I would have loved to get some pictures of the city. And although there was still a lot of damage, the people there were able to run their businesses out of shipping containers. Very inspiring. So, if you ever get a chance, don't pass up Christchurch.
We disembarked this ship around 10am and took the tender boat to shore. We walked around the city, did a little shopping, and had lunch at a local cafe.
greek food for lunch. yum!
The town was really small, and since the weather was cold and windy there wasn't a ton of stuff to do. We got bored and cold pretty quickly and decided to head back to the ship and call it a day. We ended up working out, taking a nap and just relaxing.
Matt's opinion of Akaroa. Couldn't have said it better myself.
..........a local and his pup.................the cliffs just outside Akaroa
Up Next: Wellington, New Zealand....finally a big city!