The next two days of our trip (Tuesday and Wednesday) were spent at sea. I thought that two whole days without a port visit would be really boring but it was actually really relaxing. We went to the gym both days, and usually stayed off the treadmills. We had some rough seas and trying to run on the treadmill while rocking back and forth was not easy. Matt managed to stick it out on the treadmill without falling off for much longer than me. After a 7 month deployment he is a pro at that. Since the weather was cool and windy, we did a lot of reading and napping in our room. It would have been nice to lay out by the pool, but chilling in the room looking out at the ocean was just as good. During those two days we were lucky enough to get invited to two welcome back receptions: one was for everyone on the ship, one was for gold members, and both included free drinks.
thumbs up for free colored champagne!
I have cruised many times with Royal Caribbean and have earned enough nights (after the NZ cruise) to be a Platinum member! Woo hooo! And lucky for Matt, when we got married, he automatically got upgraded to my point status too.
After two wonderful days at sea we finally arrived in the Fiordlands of New Zealand on Thursday. The Fiordlands are situated on the south-western corner of the south island. A fiord (or sound) is a long, narrow inlet with steep sides or cliffs, created in a valley carved by glacial activity. They are breathtaking. We went through three sounds in one day.
First up: Milford Sound. We arrived around 7am. Matt and I got up and stood on the balcony and enjoyed the view.
Unfortunately the pictures just don't do it justice. So, here is a video of Milford Sound.
And here is how close we got to Stirling Falls.....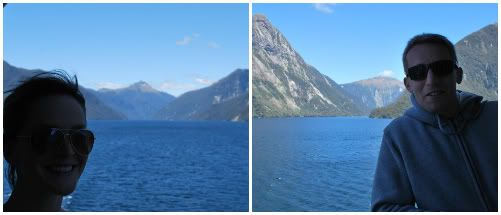 Last, but certainly not least: Dusky Sound.....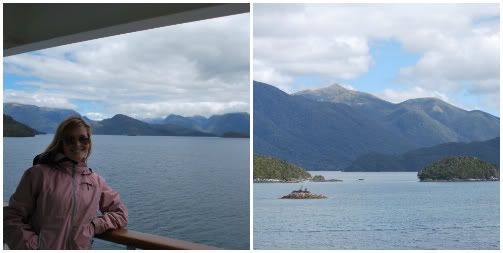 And as we were leaving Dusky Sound, we got a nice little note on our door. Customs came a callin'.
What an experience. I really can't even put into words how beautiful it was out there. We would just stand on the balcony and stare up at the amazing cliffs. Because of the rough terrain surrounding the Fiordlands, most people do not get to see what we saw. They are typically only accessible by air and sea. Because of that, I am so happy we chose to do the cruise. We would have missed out on a lot had we just hit a few cities in New Zealand instead.
Stay tuned: Our first port visits are up tomorrow.....Dunedin and Akaroa!