After our amazing trip of a lifetime, we are finally back home and all settled in. I managed to get all our pictures (over 900) uploaded and sorted, so it's time to start the vaca recap! Instead of bombarding you with one long blog post, I am going to break up the trip by each day or so. This way I can write about what we did and you can see a lot more of the breathtaking scenery.
Our trip started out with a very long overnight flight. We left San Diego at 8pm, went to San Francisco where we changed planes, and then took off for Sydney at 1030pm. It was a long flight, but we both managed to sleep through most of it (thank goodness!). I was worried it would be the longest 14 hours of my life, but it was surprisingly not bad. No matter what, that much travelling takes its toll on you and we were looking forward to some relaxation. After landing, gathering up all our luggage, we hopped in a cab and headed to the ship. The plan was to check in, shower and change clothes, then head out and explore the city. However, the ship was not allowing guests on just yet, so we had to drop off our bags and come back a few hours later. Luckily there was this little street market nearby so we walked over and did a little shopping.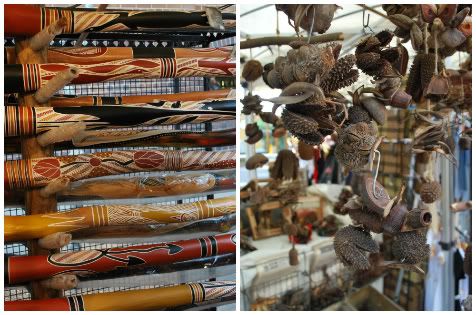 Then it was beer time. The local beer there was really good. And they don't categorize beer like we do. When you order a beer in the US you say "I want a light beer" and you can get the lightest color (usually the most mild in taste) on tap. But in Australia and New Zealand that means light in alcohol content. Interesting. Needless to say we had a great time test tasting the local beer, and being entertained by a local who was wasted at 11am. Good times.
By 1130am we were all checked in and on the ship. We were super excited and wanted to head over and finally check out our room. Our cabin was located on the port side towards the front of the ship. We had a beautiful balcony room with a view of the Opera House.
the ship
our view!
After grabbing some food we were off to explore some more. We headed over to the beautiful Opera House and decided to go on the tour. It is the only way to see the Concert Hall and all the other performance areas (unless of course you see a show which we couldn't do). It was amazing. We learned all about the history of the Opera House and how it was built and what they use the rooms for, etc. I hope to one day go back and see a show there. Unfortunately we couldn't take pictures of the Concert Hall but here is a cool picture of the architecture:
the ceiling
We spent that evening on the ship. We enjoyed dinner in the lovely dining room and the ship's "welcome aboard" show. Unfortunately we just didn't have the energy to hit up the bars in King's Cross, so we went to bed and got a good nights sleep.
Monday was our second day in Sydney. We started the day with a workout and some breakfast, then took a ferry ride to Watson's Bay. Let's just say the weather was a little cool and breezy.....
on the ferry. brrrr....
Before stopping for lunch we took a little stroll over to Gap Bluff. The cliffs and the ocean were beautiful. And the sun managed to stay out while we were hiking around which was nice. Just as the clouds and storm started to roll in we sat down for a delicious lunch at Doyle's on the Beach.
The restaurant has been around since 1885, and for good reason. They make some great fish and chips! It was a little pricey but worth it. After our lunch we decided to take a little walk around the neighborhood and while we were out exploring we discovered this cute beach.
Watson's Bay was a great little excursion. The town is super cute and we loved just walking around and exploring.
We took the ferry back to Sydney, then walked to some shops so Matt could get the perfect Australia t-shirt. Then it was all-aboard! We stood on our balcony as we pulled out of Sydney, saying goodbye to Australia and hello to New Zealand.
enjoying the view from the balcony
Sydney
Coming up.....The Fiordlands of New Zealand.