On Sunday we arrived in Wellington, the capital city of New Zealand. We met up with another couple on the ship and decided to spend the day checking out the city with them. We walked 10 minutes into the heart of the city, and took the famous Wellington Cable Car to the botanical gardens. The day started off cloudy and cool but quickly warmed up (thank goodness!). It was one of the nicest days we had so far.
We originally planned to breeze through the gardens, making sure to stop and smell the roses, then head over to the museum where we would spend most of the day. We quickly got distracted by all the beautiful flowers and unique trees and spent much longer taking it all in. Matt had the camera in hand and was taking a lot of pictures throughout our leisurely stroll.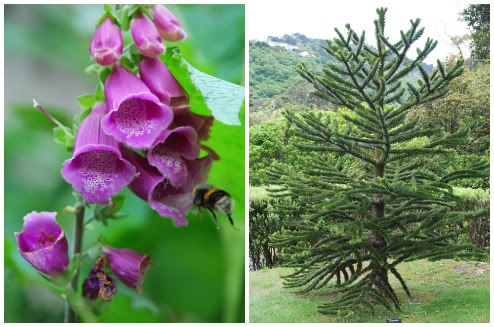 After quite a walk through the gardens, we finally reached the rose garden. It was stunning. There had to be every color of rose you could think of. And the aroma...we loved it. We spent the next 30 minutes or more stopping to smell the roses....
And taking pictures of the adorable ducklings...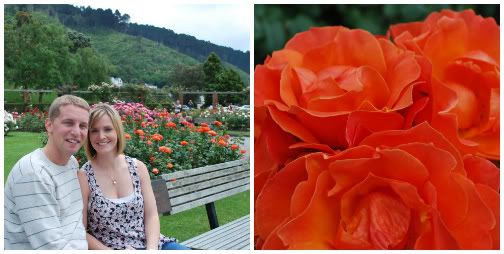 After a quick bite to eat we were off to the fabulous Te Papa museum. Matt had heard a lot of wonderful things about this museum while we was on deployment so we went to check it out. Normally I am not a huge fan of museums, but this one was pretty neat. It talked all about how New Zealand was formed, the Maori people, art, etc. It was very interesting and I wish we had been able to spend a little more time there.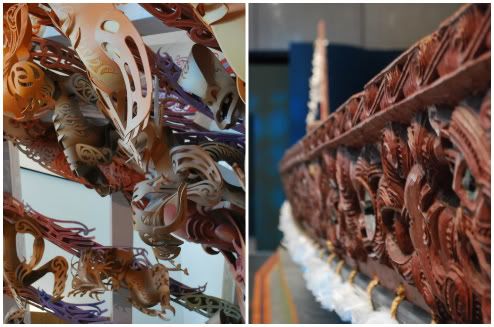 postcard wall. I'm pointing at Shannon, New Zealand
By 5pm we were back on board and heading off to our next destination. I think my favorite part of every day is watching the ship pull out of port. It's relaxing to just sit on the balcony and get lost in the beautiful countryside.
Come back next week to read all about Napier, Taupo, Auckland, Days at Sea, and Cairns!