Tuesday December 20 was the last day of our trip. Sad face. But we sure did a lot of cool stuff on our final day. We started off the day by sleeping in, grabbing some breakfast and then heading downstairs to meet up at the helicopter pad for our 40 minute reef tour. Yesterday we got to see the reef from below and today we get to see it from above. Our helicopter arrived around 10:20am and we loaded up. Matt let me sit in the front seat since it was my first time in a helicopter and you got the best view from that seat (he is so sweet).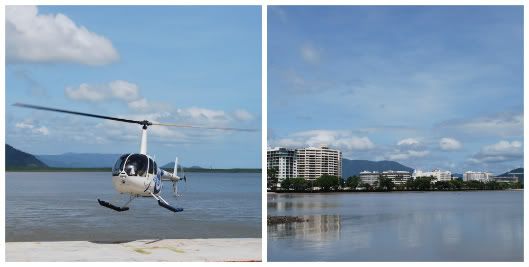 It took about 15 minutes for us to get out of the area and to the reef. We flew around for a while and got to see Green Island, a little sand island, and even a sting ray! I pictured the reef as one giant reef. It is actually many smaller reefs and islands separated by a small amount of blue ocean. It is really cool to look out into the distance and see all the individual reefs scattered everywhere. The whole experience was very moving. It is listed as one of the seven wonders of the world, and for good reason. It is magnificent. It will take your breath away. I had always wanted to see the reef, and here we were, flying over it in a helicopter! It is officially off my bucket list, but I would go back in a heartbeat if I could.
Here are some of our pictures.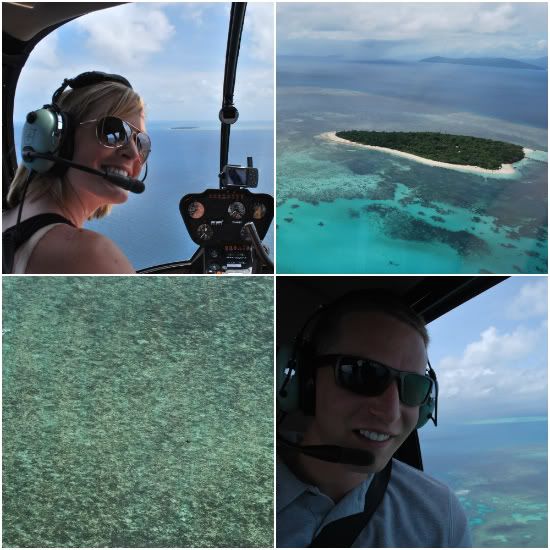 After our fabulous flight we were took a shuttle up to the Cairns tropical zoo. Matt really wanted to hold a koala bear and that was the place to do it! And it was a small yet awesome zoo. One of the best I have been to because they allow you to get up close and personal with the animals. We had so much fun!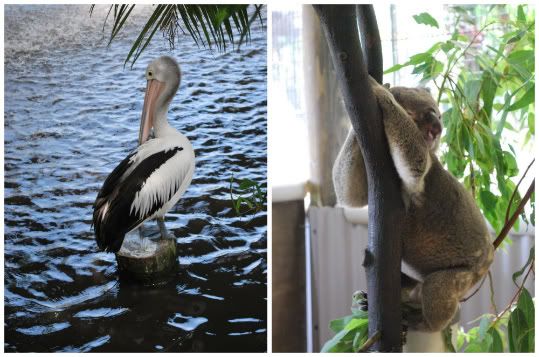 Santa Claus came out just to feed the crocodiles (scary!)....
And we got to feed and pet the kangaroos!!! They were so cute and
they
didn't kick us! Yay!! (I did feel bad for eating kangaroo after petting them)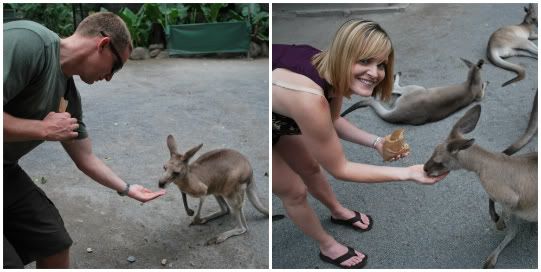 Then we got to see a really awesome bird show. They had owls and hawks and they were flying so close to us they touched my hair! They were able to do some pretty cool tricks too.
After a few hours at the zoo we headed across the street to picture perfect Palm Cove.
postcard worthy
It was windy and warm and so relaxing out there. We walked along the beach, put our feet in the water, soaking it all in. Then we headed to a bar that was right on the beach, grabbed a patio table, and enjoyed some beers as we people watched. It was perfect. We grabbed some dinner at a local Thai place and then headed back to the hotel for a relaxing, low key evening.
It was the trip of a lifetime. I had always dreamed and hoped that someday I would see New Zealand and Australia, but I wasn't sure it would ever happen. But after seven long months of deployment and lots of saving, we made our dreams come true. We got to see and experience so much.....Bungy jumping (twice), wine tasting, the Fiordlands, scuba diving, helicopter ride, etc. And we got to do it all together. We made some unforgettable memories that I know we will be talking and reminiscing about for the rest of our lives.