After disembarking from the ship we quickly made our way to the airport so we could catch our flight to Cairns. The flight was an easy and relaxing 3 hours. When we landed we were shocked at how hot is was outside! It went from a cool 60's to a steamy and humid 90's. I knew it would be warm, but I don't think you are ever fully prepared for it. We grabbed a cab and made our way to the hotel, The Shangri-la. The hotel was right on the water, overlooking the harbour and the beach. There was a mini mall and a ton of restaurants on the bottom level of the hotel, and we were blocks away from downtown and all the nightlife.
After dropping off our bags in our room we Matt decided we should go for a run. There was a great path along the beach that was about 6 or so miles round trip. I did not make it that far. The heat got to me quickly and I just couldn't keep up. I went about half way and then turned back. Plus I just wasn't in the exercise mood. Matt stuck it out for much longer, and was a sweaty mess when he returned. We showered and changed and decided to go grab some food and walk around the city.
All the shops and restaurants are bundled together in a 4 block radius, making it very pedestrian friendly. And because of the reef and the rain forest, it is a big tourist town, especially for student travellers. There was a hostel on every corner and young people everywhere! A complete 180 from the cruise where we were one of the few young couples on board. We were excited to check out the bar scene and headed straight over to Courthouse (a bar that used to be the city's courthouse), where they had $3 coronas. Sold!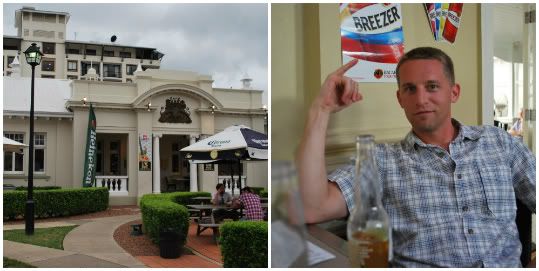 As we were walking back to the hotel we stumbled upon Gilligan's, a hostel/hotel. When we were making reservations for Cairns we briefly considered staying at Gilligan's. It was cheaper, had good reviews, and it seemed like a place where we could make a lot of friends. Thank goodness we decided against it. Think Mexico during spring break. Yea, no thanks . College students everywhere, people drinking and swimming, hanging off balconies drinking, up until 4am partying. Sometimes I wish I could still party like that, but unfortunately I am an old married lady now. But we did enjoy hanging out at the bar and scoping it out. And the pool did look like a lot of fun!
After our fix of music and beer we made a stop at the grocery store for beer and snacks:
rice crispys? rice bubbles? easily entertained
That evening we went out to a nice dinner at a restaurant nearby, then rented a movie and called it a night. We had to get up early to scuba dive the next day and did not want a hangover. Good call by us, turns out the seas are very rough as you make your way out to the reef.
Monday morning we got up, grabbed some food, and walked over to our dive boat. We eventually boarded, filled out paperwork and grabbed some coffee. We were all encouraged to take sea sick pills if we get motion sickness because it was going to be a very bumpy ride. Matt said he would be fine, I was a little nervous and didn't want to ruin my day by getting sick, so I took the pills. And thank god I did! I would say almost half the boat was puking their guts out. Yuck.
this poor guy was sick all day long.
We listened to instructions from our dive master and learned all about the fish we were to leave alone. The was a "shooter" fish that was likely to attack you if you got too close to it's territory, and one actually bit a girl the day before. I was quickly trying to memorize all the information. I did not want to go home with teeth marks from a fish, no thanks.
After a 45 minute ride we finally arrived at the outer reef. We geared up and hopped right into the water.
the water was so blue and warm!
All the divers wore thin lycra suits for protection. It was jellyfish season and we didn't need to get stung by any of them! We did 3 separate dives with a short break in between each. We saw nurse sharks, clown fish, clams, sea turtles, lots of beautiful coral, and a few of those territorial shooter fish. Here are some underwater images the photographer took:
We actually stuck our hands in the clam shell and got to feel how soft it was! We also got to pet the turtle! Our dive instructor was feeding him so we each got to swim up and touch his shell and his fins. It was really awesome! And we actually touched the Anemone, where the clown fish lives, and the ends stick to your fingers. It was pretty cool.
Here we are, having the time of our lives scuba diving the Great Barrier Reef!!!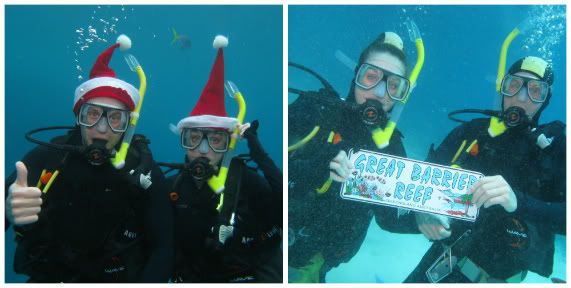 I sorta look distraught in these pics, but that's only because I didn't smile. I was super happy!
We also did a little bit of snorkeling after our dives. We had the time and I wanted to be in the water as much as possible! I wanted to soak it all in and really enjoy my experience out there. I don't know if I will ever be able to see the reef again, so I needed to see as much as possible!
We also had some relaxation time on the boat, where we soaked up the sun and took some more pictures.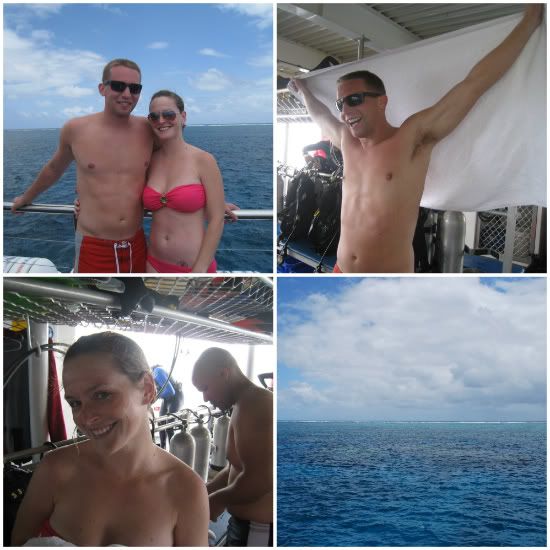 It was a perfect day outside. I am so glad we were able to make it up to Cairns so we could experience the reef.
After hours out in the water and the sun we headed back to land.
our hotel in the distance
After showering and relaxing for a bit we walked through town and stopped for dinner at Ochre restaurant. It was recommended to us by some friends for the great local cuisine. And boy was it delicious! I decided to branch out, I had the kangaroo for dinner! It was actually really good (I wish I had a picture). It was a lot like steak, except a little gamier, and apparently much healthier for you. I couldn't bring myself to try the crocodile, even though it was another local favorite. After our fabulous dinner we walked to a nearby pub for some drinks. We quickly made friends with some travelling Germans and spent the rest of the night drinking beer and bar hopping with them.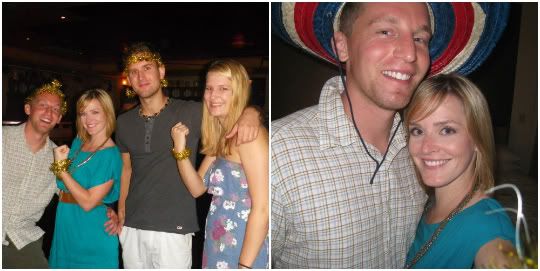 We took the garland off the bar and decorated ourselves, this was actually the boys idea.
and we picked up some awesome hats at our final bar
It was such a great day! We got to experience the ocean and the reef, then the local cuisine, and finally the city itself. I could not have asked for a more perfect day.
Up tomorrow: Our last vacation day~ the reef from above, a really awesome zoo, and picture perfect beaches!!