Monday was our shortest day on land. The ship docked at 7am, and was scheduled to depart at 1pm. Since we had limited time and we just so happened to be in the wine region, we booked a wine tasting excursion. We got up early and loaded up on the bus by 8am. The ride started off with a nice little tour of town, then we made our first stop at Mission Estates Winery.

This was my favorite winery that we went to, mostly because of the view and the people that work there. The guy who was pouring our drinks was so enthusiastic about their wine. He was funny and knowledgeable and we had a great time tasting everything. We even bought a bottle to take home. And it was sunny and warm outside....
Next up was TeAwa winery. Their winery was operated out of this gorgeous wood building next to a beautiful barn and all the vineyards. Their wine was tasty and we quickly selected a chardonnay to enjoy out back.
The final winery we went to was Farmgate. They had a beautifully restored farm house
and a pond on their property. And they gave us extra bonus tastes, which we loved. We didn't end up purchasing anything from them, but we had a great time anyways.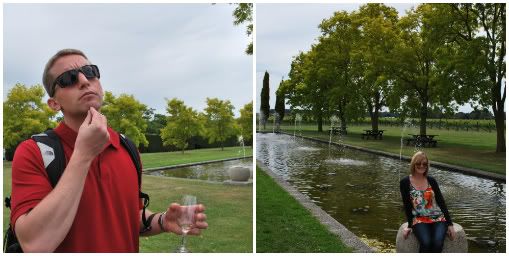 At each location we got to taste about six different wines they had to offer. We had originally planned on purchasing a bunch of wine and having it shipped to our house, but that proved to be way too costly. Instead we just enjoyed our time out there and bought one special bottle back to drink later. It was a really fun day....who doesn't love wine tasting? :)
And when we got back to the ship the locals had stopped by with their old cars. They were awesome!
we were also a little intoxicated so it was extra fun. haha.
Tomorrow is a big day: we go bungy jumping for the first time!!! ahhhh!!