I know this is a little late for a NYE recap, but I was busy posting all about the trip last week. :)
Our original plans for NYE was to go out but keep it somewhat low-key. I was thinking a dive-ish bar where we could get a drink in a reasonable amount of time and actually be able to have a conversation with friends. But then the words free cover were mentioned and I was game for a downtown adventure. We started off the night in downtown, but not in downtown if you get my drift. The benefit: available parking. The downside: a looonng walk to the bar. We met up at Darnell's place, had a few drinks and hung out for a while. We left the apt by 9pm and headed for the gaslamp. It was really cold out (but I was in a dress so my opinion might be skewed) and damn it was a long walk. 12 blocks. In heels. Definitely should have reconsidered my outfit, too late now.
We arrived at Henry's, where Darnell smooth talked the bouncer and got us all in for free. Saved us $40/person. And the place was packed! There was not a lot of extra space to just stand and enjoy your beverage. But, it was NYE, so we knew it would be crowded. We danced and had a great time! This was also the first time we took our new point and shoot camera out with us (I was super paranoid about dropping it!)...
trying to figure out the flash. haha.
got it. :)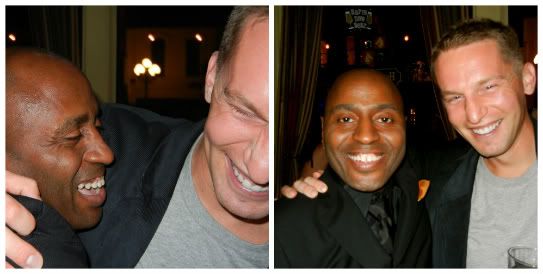 silly boys.
We made it to midnight, just long enough to get in the kiss...
Then it was time to get the heck out of there, because Matty had a lot to drink and needed to hit up McDonald's. :)
drunk face...haha love it!