Of all the places we went in New Zealand, the first place I want to go back to is Taupo. The city is full of young, adventurous people. There are a million things to do from riding bikes, to hiking, to bungy jumping, etc. Anything and everything you could ever want to experience, in a city that is beautiful and lush.
We randomly found Taupo after searching high and low for a great place to bungy jump. We wanted something with a view or off a bridge, that was close to the port. This one checked all the boxes. The city was a two hour drive from the port of Tauranga, so as soon as we got off the ship we headed to the rental car and started out on our little adventure. As we got into our little car we quickly realized we would be driving a manual, well Matt would be because I don't really know how. If it had just been the manual car, I would have felt fine, but add in the driving on the left side of the road, plus all the roundabouts, and some rain, I was very nervous. I really had no reason to worry, Matt did a really great job, and once we got out of the city we were fine. The roads were not very crowded and we just cruised along and enjoyed the view. We passed a lot of beautiful rolling hills, thick forests, and even thermal lands. The steam was rising right out of the ground! It was really cool!
Two hours later we arrived at Taupo bungy. For some reason I was under the impression we would have to take a bus to the location and then go bungy jumping. However it was literally right off the side of the road. You walk through some brush and BAM, there is is.
Matt kept trying to psych me out and didn't believe I would actually do it. I pretended to be a little scared, but honestly I was super excited! I had always wanted to go bungy jumping and it was finally happening. Plus we were going tandem so I knew I wouldn't be going alone, which was very comforting.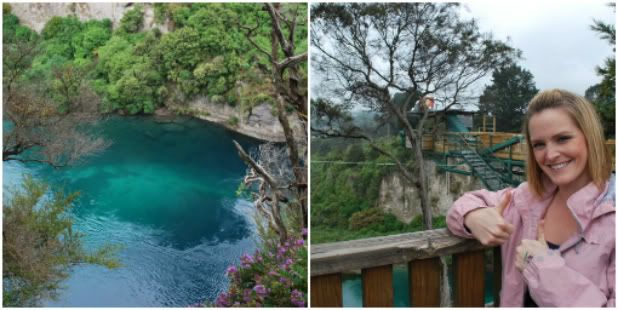 The crystal clear water................................me! see, I am super excited!!
We checked in at the office, got weighed and I changed into shorts in case we got a little wet. Matt wanted to do a finger touch bungy, which would be awesome. However, a "finger touch" could also lead to a "whole body dunk". They make no promises. I was cold just thinking about it. As we waited our turn we watched two girls go. That started to freak me out. Plus one girl requested a "finger touch" and got soaked. EEEk. Finally it was our turn. They sat us down on the bench and we all chatted while we got harnessed up. Easy enough, but the reality of the situation was definitely starting to sink in. I wanted to puke. They checked and rechecked our gear, and then the time had come to stand up. When you stand up you can feel the pull of the cord, it's so strong you fell like any second you will go flying off the edge. And we actually had to back up to the very edge of the platform, so only our toes were touching. UM What??? I was scared out of my mind and grabbing on to the sides for dear life. And the tiny loop on Matt's harness I was allowed to hold to. I looked at Matt and asked him if he was sure.....he said yes, but it was not as confident as I had hoped. I told him there was no way I was going to voluntarily jump off so he was going to have to do it for us. Hesitantly, he agreed. After receiving brief instructions, it was time. Look at the camera and smile:
you can see the nervousness in my face
1.....2......3.....BUNGY!!!!
We got super close to the water, but didn't touch
Matt and I both screamed on the way down, but by the time the cord caught us I was laughing and smiling. It was amazing!! It was so much fun! Yes, you get that feeling in your tummy and you are totally scared out of your mind that you will die, but it was really cool! As soon as it was over I wanted to do it again. And again. I know, I'm nuts, but it was such a great experience!
Eventually all the adrenaline wore off and we could function again. We had a drink on their patio while we waited for the video and pictures. Then we were off to Spa park and Huka falls.
The locals told us about this great hot springs less than a mile down the path. Since it was a little chilly out, the thought of relaxing in a natural hot spring sounded amazing. Matt was smart enough to bring his bathing suit, I had to get a little creative. Undies and tank top bikini for me! Those pictures aren't blog safe, so here are some of Matt....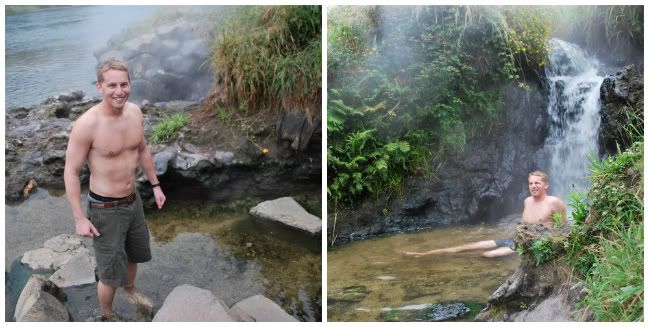 The water was really really hot! Almost too hot to sit in and enjoy. We hung out and relaxed in the water for 20 minutes or so. And the water made my skin feel soooo soft!! I could have stayed so much longer, but we wanted to see Huka Falls and we had a two hour drive ahead of us too.
Huka Falls was just up the road and absolutely breathtaking. The amount of water that rushes over those falls is unbelievable. It was a great little stop.
the water was soooo blue!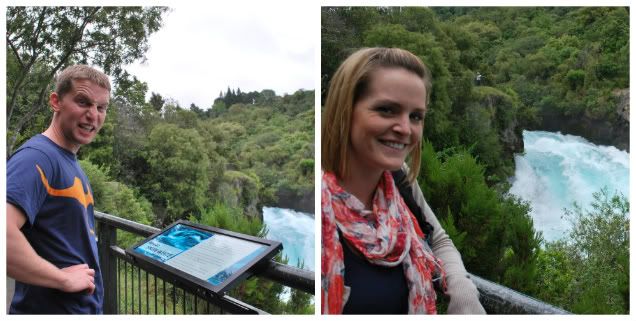 I love Matt's expression in this photo......................................look at the water!!
After the falls it was time to head back. We made one final stop at a glass blowing shop that just so happened to have a really awesome restaurant in it too. The food was so yum! We took a slightly different way back and enjoyed checking out the kiwi farms on the side of the road. We made it back to the ship with minutes to spare (yay!) and excitedly told everyone we knew about our adventurous day! It was such an awesome kick ass day. We created some great memories and got to cross an item off our bucket list.
pre-dinner photo, look we are still glowing from all the excitement!
Up next: Auckland!! And we go bungy jumping again!! I know, we are NUTS! :)