Last weekend we had some very special visitors....my Mama and the golden boys! It had been a while since Jack and Ryan had visited San Diego, and they were in desperate need of a doggie beach vacation. And yes, we went to the beach every single day. Harley just couldn't believe that not only was Grandma visiting, but so were his Uncles and he got to go to the beach every day. Weather and errands permitting, H usually gets to go to the beach once a week, so three times in three days was quite the treat. Here are a few pictures from our trips to the beach:
they didn't care one bit that the water was freezing!
happy Jack
here comes H!
sandy Ryan
And with every fun filled trip to the beach came a trip to the dog wash. You play, you pay. Jack and Ryan really didn't mind the bath too much, and really loved the drying part. Harley hated every minute of it. By the third day he knew what was coming......
refusing to leave the beach, knowing a bath was in store.
I hadn't seen moves like this since he was a puppy refusing to go for a walk outside. I am sure people thought I was torturing my dog. haha.
Besides the beach, my Mom and I spent some time together looking at baby gear (I was in search for a great rocker). And while we were out I finally narrowed down the stroller.....we are getting a Bob! After reading all the reviews and trying out all the different strollers, as well as getting recommendations from other Moms, it is the stroller for us. We are super excited, especially since we got an REI coupon in the mail the other day which will really help reduce the cost! Woo hoo!! It will be our first big baby gear purchase.
And on Saturday night we went to the Lady Antebellum concert. Thompson Square and Darius Rucker opened, and both were amazing. Matt loved Hootie and the Blowfish, and country music has grown on him, so everyone was super excited to go. We got seats this time instead of the lawn, which was really nice. Lady A was so good! It was a great concert and I am so glad we were able to go together. The only downfall was the weather: it was so cold! By the end we couldn't wait to get in the car and blast the heater.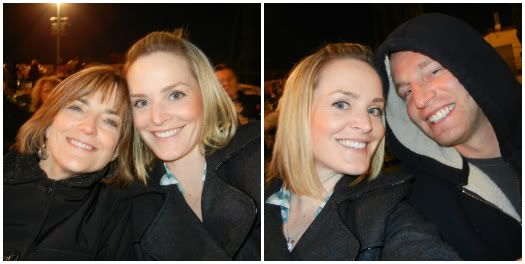 all bundled up but having a great time! :)
We also did a lot of relaxing and just hanging out. The dogs were huge fans....
Ryan taking a nap. ahhh the life.
H, super annoyed I kept trying to take his picture. :)
Even though my Mom was happy to get a mini-vacation, getting to see her growing grand baby was even more important! On Monday we all went to my Dr appointment and got to hear the heartbeat. It was a perfect 140, everything looks great. The belly is growing and I should really start to feel the movements now. Here are a few bump photos.
family photo
the bump. 16w 5d