We had our 20 week ultrasound today and found out baby Clute is a girl!!! The votes were split 50/50 so half of you were right. We honestly didn't prefer one sex over the other. I know most parents say that, but it's true. I was more concerned about her health and if she had two arms and two legs! Paranoia setting in early. Luckily everything looks great. They took a bunch of measurements and she is within range, so I guess that means no change to the due date, even though she is on the smaller side. We got to see her heart and the four chambers pumping away. It was amazing! We also saw her kidneys and her bladder, her beautiful spine and her brain. The tech also measured her femur and it was pretty big! Within range, but on the bigger side. I think we may have a runner in the family. She was wiggling around a bit and opening and closing her mouth a lot. She was also a little camera shy (hard to believe seeing as she is my child), and was being quite modest when we were looking for her lady parts. And about half way through the appointment she turned on her side away from us. I think she was sick and tired of being poked and prodded.
I also found out I have a posterior placenta, meaning the placenta is placed in the back, which pushes baby forward. I should be able to feel her move around a lot! She is still under a pound, so I don't feel too much yet, but as she grows she will be kicking me like crazy! :)
And here is a picture of me, at 20 weeks:
I'm wearing my new maternity pants too! :)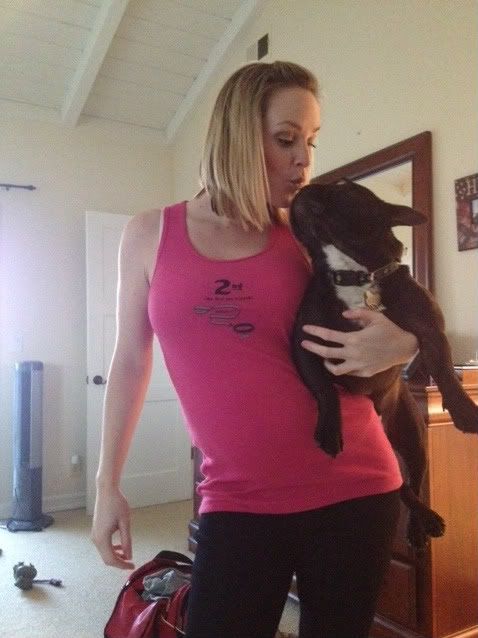 My cute new shirt my friend gave me....it could not be more perfect.
It says "2nd. The first one has a leash".
We are so excited to add a little girl to our family. I know H is going to be super happy to have a little sister to love on and protect. And I know she will have Matt wrapped around her little finger the moment she enters this world (if it hasn't happened already). Daddy's little girl.
Estimated, 9/1/12....I think she will be fashionably late.
How many pounds have you gained so far?
Do you know the gender of your baby?
Do you have a name picked out?
I think we do, but we aren't telling! It's going to be a surprise!
Is the child being named after someone?
The middle name is selected and has a very special meaning to me.
Who is going to be with you during delivery?
Hubby for sure, probably Mom too (if she can make it on time!)
Natural or medicated childbirth?
We are going all natural! We are having the baby at a Birthing Center in San Diego. After watching The Business of Being Born, we wanted to stay away from a C section and the hospital environment, so we found a great birthing center. A happy medium between a home birth and a hospital. And while I am not opposed to an epidural, they don't offer them so I guess I am sol.
How are you feeling right about now?
I am feeling really great. The baby is growing and moving around and everything is going smooth. I am really enjoying being pregnant!
What was the first thing you bought for baby?
Matt brought home a precious elephant statue he picked up in Thailand when he was on deployment. We also got a stuffed koala bear on our trip to Australia and New Zealand. :)
Do you feel you are ready to have a baby?
Yes and No. We have thought about and planned for her for a long time, but I don't know if you are ever 100% ready. Sometimes I start thinking about what we will miss out on, but know that we lived our lives and experienced a lot before we decided to get pregnant.
Are you excited or scared about delivery?
Right now, more scared. The "how is this baby going to get out me?" scares me. But I am excited to be able to see what she looks like and to hold her.
pastries, croissants, donuts, etc. yum!
Anything you loved before that you absolutely cannot eat anymore?
I am not the biggest fan of fruits and veggies anymore, and I wish I was. I try to add them in when I can, but for some reason baby girl wants carbs!